We are excited to offer many opportunities for our students to learn in the LMC! Please contact us if you have any questions, comments, or ideas for the library. We look forward to a rich year of learning in the 2016-2017 school year!
All students attend Digital Media class each week as a special.
Churchill Makerspace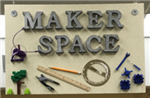 Makerspaces, are creative, DIY spaces where people can gather to create, invent, and learn. In libraries they often have 3D printers, computer programs, electronics, craft and hardware supplies and tools, and more.
Churchill is proud to have a fantastic Makerspace with the help of the PTA. It is available to all grade levels to enter and build, tinker, innovate and create.
Typing Club
I am excited to share that students now have access to a new keyboarding program for 1st - 5th grade students that will assist each student in mastering keyboarding. Read the Typing Club parent letter (Spanish version) here.
GAFE (Google Apps for Education)
Students can access their student Google accounts from school and from home. After opening up the Google page, students log in using their username@d41.org and the password is their student ID number (the 2080... number). Read the Google Home Access parent letter here.